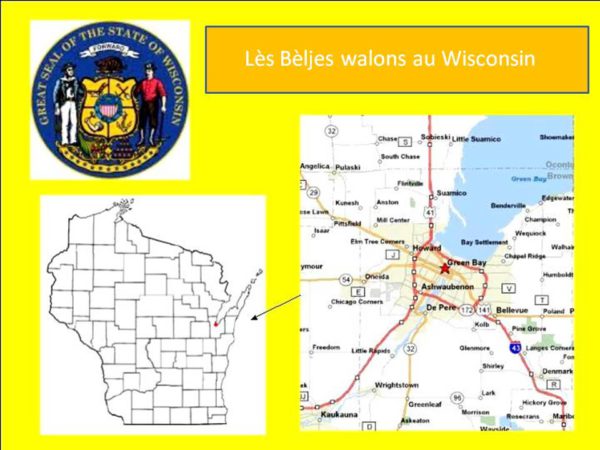 The Walloon Belgians in Wisconsin (USA) / Lès Bèljes walons au Wisconsin (ÛSA)/ Les Belges wallons au Wisconsin (USA)
PLAN
1 Histwêre / History
2 Jèyografîye / Geography
3 Langue / Language
4 Vikadje / Way of living
5 Loyins Wisconsin- Bèljike walone / Links Wisconsin – Walloon Belgium
1 Histwêre / Histoire / History
Yves Paquet, L' abagadje dès Walons au Wisconsin, in : Li Chwès, 3, 2003
Li prumî batia bèlje arive à Detroit è 1800.
È 1838 arive à Green Bay, Wisconsin, li rèvèrend Fr. Florimond Bonduel. È 1850, deûs d' nos djins vikin.n  au Wisconsin : Alexander Alexis et Albert Nazelle. Li 5 di Julèt' 1853, à New York, dîs familes bèljes abaguenut do batia qu' è-st-èvôye d' Antwerpen li 18 di maîy 1853 : François Petiniot, Jean Martin, Philippe Hannon, Joseph Moreau, Etienne Détienne, Adrian Masy, Martin Pâque, Jean Baptiste Détienne, Joseph Jossart, Lambert Bodart.
Deûs familes, Martin Pâque et Jean Martin quitenut l'groupe po Philadelphia, lès-ôtes ènnè vont po l' Wisconsin èt s' mète dins l' cwane di Green Bay èwoù-ce qu' il achètenut on-arpent* po on dolâr èt 25 cents. Is lomenut leû viladje
"aux Premiers Belges ", qui d'vinrè par après Champion.
Leûs vijins sont lès-Indyins Potowatami què leû mostèrenut comint tchèssî, èfumyî l' tchau, fé dè l' sirôpe. Il ont stî fwârt amichtauves èt sèrviauves.
Lès Bèljes ont scrît à leû famile po leû raconter comint-ce qui l' Novia Monde èsteûve. Cès lètes-là ont-st-ènondé dès-ôtès familes à v'nu d' Bèljike. C' è-st-insi, qu' ètur 1854 èt 1858, 15.000 Bèljes ont tot vindu po v'nu do Nôrd dè l' province di Nameur èt do Sûd do Roman payis au Wisconsin èt s' mète ètur Green Bay èt Sturgeon Bay po-z-î fé 14 parotches.
Bran.mint d' zèls èstin.n cinsîs ou ovrîs : munusier, mârchau, travayeû do fiêr, cwamejî èt tchik èt tchak. Is causin.n tortos walon sins l' sawè scrîre. Gn-aveûve èto dès Flaminds qu' ont-st-arivés à Wrighstown, Rockland, Preble èt Humboldt.
Adon, l' guêre civile a v'nu, èwoù-ce qui bran.mint dès Bèljes s' ont stî bate.
È 1871, ç'a stî l' grand feu à Peshtigo. Vêla,  tot l' viladje a brûlé èt, l' min.me djoû,  l' feu a pris à Chicago. Après l' feu, lès Bèljes on r'bâti leûs maujones avou dès brikes è l' place do bwès. Min.me li Rwè d' Bèljike à aîdi tot d'nant 5.000 dolârs di s' potche.
Après 1880, lès Flaminds ont v'nu d' Heverlee, Blanden, Sint-Niklaas, Valbeek, Bierbeek po s' mète dins l' nôrd-èst do Wisconsin. D's-ôtès djins ont v'nu d' l' Eûrope po s' mète au Wisconsin : dès-Bohémyins èt dès Polonès.
Po r'trover lès Indyins di-d-vêlà, dj' a stî à Peshtigo èt passer pa li p'tit viladje dè l' nâcion ONEJDA, dès-Indyins dè l' famile dès-Irokwès qu' ont v'nu d' New-York après l' guêre. Cès djins là disfindenut leû langue, li "Mohawk language " èt leûs-ûsances. Dj' a-st-apris à dîre : "She kù" bondjoû , "on'vki wah " à r'veûy, èt discouviè qu' is mètenut leû langue è scole, zèls, po sayî dè  l' transmète. Dji m' dimande bin duvint-ce qu'on lès lome "lès sauvadjes ", mi, cès djins-là !
*On arpent : i faut 2 arpents èt d'méy po fé on-èctâre.
http://www.uwgb.edu/wisfrench/library/history/belges/wibelges.htm
1852: EMIGRATION OF THE FARMERS FROM BRABANT AND HESBAYE (Belgium)
In September 1852, two Belgian families from Grez-Doiceau in Brabant Wallon, decided spontaneously to emigrate to the United States. We do not know whether it was the saga of these two families or the example of their Luxembourg compatriots which set off the movement of emigration from Brabant and Hesbaye to the New World; the sources, and particulary the oral traditions, show an exemplary discretion on this subject. However, it was also from Grez-Doiceau and its immediate neighbourhood that, in May 1853, the first mass departure for the United States was organized. 81 Brabantines embarked in an old American threemaster, the Quinnebaug. After having braved several storms, they landed at New York on 5 July 1853, after a voyage lasting almost 50 days.
According to the American tradition, the Belgian emigrants had hardly decided on thelr destination when they left the port of Antwerp. It was only during the Atlantic crossing that they decided to accompany the Dutch voyagers to Wisconsin. They settled to the northeast of Green Bay, where the forests of the peninsula began, and there they established the nucleus of their future Belgian colony. Today, the Belgian population extends over a triangle formed by Bay Settlement, Sturgeon Bay and Algoma, covering Door, Brown and Kewaunee counties.
From September 1853 onwards, and probably before they were able to receive any reassuring news on the establishment of the first pioneers, other families embarked for the United States. From now on, the movement was launched, and it seemed that nothing could stop it, not even the pious warnings of some Belgian politicians on the malpractices of transatlantic emigration. This emigration expanded considerably in 1855 and 1856, involving in particular the populations of the East of Brabant Wallon (the cantons of Jodoigne, Perwez and Wavre) of the Namur region of Hesbaye (the cantons of Eghezée and Gembloux) and, to a lesser extent, those of the Hesbaye liégeoise. To sum up, it is estimated that between 5,000 and 7,500 Brabantines and Hesbignons answered the call of the New World from 1852 to 1856. What were the causes of this movement of emigration? A situation of economic affliction generally provides a context that is favourable to mass emigration. The emigration of the Brabantines and the Hesbignons is no exception, and belongs to the food and industrial crisis of the mid-19th Century.
Although Belgium experienced an early industrial development, in the middle of the XlXth century agriculture still provided employment for 50% of the active population, and had to feed a population which had not ceased to grow since the first quarter of the century. The Brabançon landscape, as described by the cadaster and the census of 1846, shows us a soil that is cultivated up into the remotest corners and parcelled up to an extreme degree. The peasants could not gain a decent living from the products of their land alone. So many of them found additional sources of income in rural industries (distilling, brewing, sugar milling, etc.) and home activities (cutlery, straw plaiting, nail-making).
It was quite obvious that this rural universe based on small holdings and the cumulation of agricultural and proto-industrial activities was at the mercy of the least vagaries of the economic cycle. Belgian peasants became cruelly aware of this when in the middle of the XIX century, from 1845 to 1856, several scourges mingled their devastating effects. The potato disease, with several years of disastrous harvests, spread consternation among the most disadvantaged classes, not only in Belgium but in the whole of Western Europe. Food prices climbed in proportions it is difficult to imagine nowadays, sometimes by more than 100% from one year to another, while there was practically no readjustment of wages. Morover the industrial revolution was gaining ground day by day and was pitilessly imposing its economic conditions and constraints. Technological development and the competition from the "new industry" on the one hand, the development of the means of communication and urbanization, on the other hand, tolled the knell of the home industries and the rural industries. The battle was too unequal, and it ended in their disappearance.
This avalanche of misfortunes was enough to upset a precarious balance, transforming into starving and uprooted beggars peasants who, so far, had just been able to eke a living from the products of their land. The famine and the epidemics of cholera and typhus which arrived in its train were accompanied by great surges of mortality. Rather than swell the ranks of the poverty stricken and the victims of the crisis, some of the rural work force preferred to abandon the earth of their ancestors and to search elsewhere for more prosperous conditions of existence. It is in this way that emigration to the United States constituted a last hope for a good number of country families. These were essentially poor peasants, day-labourers and sharecroppers, accompanied by their wives and children, and sometimes even by their forbears, who swelled the flood of emigration to the United States. Their numbers also included weavers, hat-makers, cutlers, carpenters and others fleeing from the unequal competition imposed on them by the "new industry".
While the vagaries of the economic cycle created a climate favourable to expatriation, this would not have been able to develop without the combined action of two factors. The recruiting agents, in the service of Antwerp shipowners or American colonization companies, made active and effective propaganda for emigration. The appeals from parents or friends already installed in the New World, and their success, were also powerful attractions.
However, all the sources, and in particular the consular reports, denounce the deplorable living conditions of Belgian colonists during the first years of their installation in Wisconsin. Hope rapidly gave way to bitterness. These emigrants, hoping to become rich landowners, found they were faced only by uncultivated lands covered with a dense forest of deciduous and coniferous trees. In spite of the fatigue which racked them, weakened as they were by fevers, dysentery and cholera, they set to work systematically clearing their lands. As the months and years went by, these wild lands were changed into arable land, ready to receive their sowings. The felled trees were transformed into shingles then transported by schooner as far as Green Bay where they were sold for a good price. In 1860, it is estimated that 4 million wooden shingles were despatched from the region of Brussels alone. This very lucrative trade was to permit them to buy a few head of cattle and, later, farming implements and modern agricultural machines.
Soon, they could see springing up here and there family workshops offering work to carpenters, wheelwrights, sawyers and blacksmiths, while others, profiting from the winter, travelled up to Michigan to work in the sawmills there. Roads, schools, churches and shops were built. The Walloons of Wisconsin, who had become American citizens, began to share in the administrative management of their State. Some of them occupied important positions in the State. In a word, life was beginning to be organized everywhere, and the blighted hopes of the first years began to vanish from their memories.
Attracted by the spirit of enterprise of these colonists, American businessmen created industries which rapidly began to prosper. We may quote the case of Gardner who, in a few years, founded at Little Sturgeon a commercial and industrial centre, a shipyard, and a maritime company employing some 400 workers including a hundred carpenters and 150 lumberjacks.
The great fire of 1871, by destroying whole acres of woodland, dried up an important source of income for the Belgians, but did make it easier to convert the extensive woodlands into arable land. From now on, cultivation and stockfarming were to become the main occupations of the Belgian colonists.
Farms and properties increased in size, the wool trade developed, and the manufacture of butter, and still more that of cheese, made great strides. In 1884 there were about a dozen cheesemakers. Four years later, their number had doubled, and they were producing from 1,000 to 2,000 pounds of cheese a week. In the same way, near Green Bay, market gardening and the production of strawberries assured the prosperity of some colonists; it is said that some of them despatched entire waggonloads of ten tons.
In conclusion: in a few years, the emigrants from Brabant and Hesbaye contributed, by a mighty effort of will, to transforming a wild country into a prosperous farming State. This emigration to the United States, for all its importance, was only ephemeral and can be perceived as a cyclical phenomenon providing the remedy for overpopulation, underemployment and a poverty which had become endemic. This movement was to resume afterwards, but never to the extent observed between 1853 and 1856. It was to be especially the miners, the glassmakers and, to a lesser extent, the metalworkers who were to assure, from the 1860s onwards and up to the dawn of the First World War, the perennity of Walloon emigration to the United States.
Nos vîs couvins (Our old cousins / Nos vieux cousins)
in : CW, 3/2009, p.90-91
Nos vîs cousins, lès Walons do Wisconsin (2)
(Saint-Germain – Sint-Djèrmwin)
Douvint qu' c' èst vêla qu' tos lès Bèljes alîn' ?
Dins l' lingadje dès-Indyins, « Wisconsi » vout dîre : « payis dès-êwes ». En 1848, il a div'nu on-ètat d' l' Amèrike èt Green Bay ènn' èsteûve li pus grand pôrt, su l' lac Michigan. Li vile a faît imprimer one masse di rèclames po fé v'nu lès djins d' pa-t't-avau tos lès payis. One banseléye di cès papîs-là a arivé à Anvèrs èt il ont stî spaurdus dins nos viladjes. On-z-î d'djeûve qu'on–zî p'leûve acheter fwârt bon martchi brâmint dès bounès têres.
Quand nos djins arivîn' vêla, i l'zeû faleûve comincî pa trover one têre qui n' èsteûve co à person.ne. Adon, i l' alîn' fé èrèdjistrer è bûrau dès têres èt do min.me côp d'mander po div'nu Amèrikins. On n' payeûve li têre qu' après cink anéyes qu' on vikeûve dissus.
Li prumî ovradje, c' èsteûve di côper lès-aubes qu' on vindeûve à l' sôyerîye, pwîs rauyî lès racènes èt-z-è fé one têre di culture. I 'nn' avîn' po chîj ans divant d' p'lu c'mincî à sèmer.
Lès-awous' èstîn' bounes èt on p'leûve co gangnî saquants caurs è vindant dès racènes di ginseng, one plante qui done dès fwaces aus djins qui sont-st-one miète flauwes.
Et pikote à migote, i plîn' acheter dès bièsses, dès machines èt dès novèlès têres. Dès-ôtes di nos djins èstîn' omes di mèstî: mon.nîs, boskiyons, cwamejîs, mârchaus, sabotîs…
Lès-èfants alîn' dins dès scoles di ma-chére-seûrs pace qu' èles costîn' aus comunes trwès côps mwins' tchêr qui lès maîsses. A doze ans, c' èsteûve tot: lès-èfants èstîn' mètus à l'ovradje.
Tos l's-ans, après l'awous', c' èsteûve li fièsse di l'awous'. Après mèsse, on s' rachoneûve po fé one grande rinchinchote. Lès feumes avîn' apontî dès masses d' amougnî è chûvant dès r'cètes d' èmon nos-ôtes: djote, canadas, vète tripe, quèwètes. On fieûve dischinde tot ça avou dè l' bîre qu'on-z-aveûve faît li-min.me.
Pô fini, on-z-apwârteûve li taute bèlje: one coûtche di côrin avou de stofé au-d-dizeû. On fieûve dè l' musike jusqu'à iût' eûres à l' nêt èt adon tot l' monde tchanteûve li dêrène tchanson: "Nos-èrîrans planter dès canadas avou Marîye Doudouye". One musike qui n' èsteûve nin gaîye, èt qui v'leûve dîre qu'on-z-aleûve ritrover l' deur ovradje di tos lès djoûs.
Au djoû d'audjoûdu, i n' dimeûre qu'one place qu' on-z-î faît co one parèye fièsse, mins èle dure deûs djoûs: li "Belgian day", (li doûrnéye bèlje, si vos v'loz) au mitan do mwès d' julèt', dins one vile qu'on lome "Brussels". Li « district of Namur » a stî classé pa l' gouvèrnèmint amèrikin come place qui mostère li mia l' istwêre dès djins qu'ont v'nu d' Bèljike.
Daniel OGER
(trové dins: Jean Ducat, «Namurois au Nouveau Monde», NDLR. : la première partie de ce document a paru dans notre n°3 (mars-avril 2009).
"Les Wallons d'Amérique du Nord"
Françoise Lempereur, Les Wallons d'Amérique du Nord, Gembloux, 1976
(p.9) INTRODUCTION
La lecture attentive d'une carte détaillée d'Amérique du Nord réserve bien des surprises : voici, au Canada, Namur et Courcelles au Québec ; le lac Namur et la Liège River dans l'Alberta ; voici aux États-Unis, Liège, Missouri ; Charleroi, Philippeviïle et Floreffe, Pennsylvanie ; Hennepin, Illinois et Minnesota ; Brussels, Walhain, Rosière, Champion, etc., au Wisconsin.
Sait-on que, selon Joseph Kadijk 1, « 175.000 Belges se sont établis aux États-Unis depuis 1820 » ? Le chiffre est moins élevé au Canada mais l'on peut affirmer sans crainte que l'Amérique du Nord est la région du monde qui compte le plus d'émigrés ou descendants d'émigrés belges.
Les mouvements de population vers le Nouveau Monde — que nous allons tenter de résumer ici — ont fait l'objet de plusieurs travaux ; citons en tout premier lieu, ceux d'Antoine De Smet et en particulier son article L'émigration belge aux États-Unis pendant le 19e siècle jusqu'à la guerre civile (biblio) ; l'étude de Francis Balace Le recrute­ment en Belgique pour les troupes fédérales, 1864-18652 et un chapitre du livre de Joseph Delmelle L'expansion wallonne hors d'Europe 3.
Joseph kadijk, La contribution belge à la vie américaine de 1624 à nos jours, conférence donnée au Centre culturel belge de l'Université de Loyola à Chicago en 1963 et publiée le l" janvier 1964, dans Nouvelles de Belgique.
Bruxelles, Center of American Studies, 1969.
(Gilly), Institut Jules Destrée, 1967.
(p.10) Les autres Wallons en Amérique du Nord, aux 19e et 20e siècles
Selon M. Mali, consul de Belgique à New York en 1850, on peut estimer à 1.300 le nombre de Belges vivant alors aux États-Unis. Déduction faite des Flamands, ce sont donc quelques centaines d'émigrés seulement qui, issus surtout de la paysannerie luxembour­geoise, ont tenté de fuir une situation par trop précaire dans nos régions, en cherchant en Amérique un travail plus rémunérateur.
Une étude menée en 1889 par Nicolas Gonner sur les Luxembourgeois (à la fois du Grand-Duché et de la province belge) 9 a permis de cerner cette première émigration importante vers le Nouveau Monde.
Au début du 19e siècle, on signale une petite colonie du Missouri, appelée Nouvelle-Liège, mais on en perd la trace dès 1833. En 1830, des gens de Guirsch, près d'Arlon, partent pour les États-Unis, bientôt suivis d'habitants de Fouches (Hachy), Messancy et Sélange. En 1834, quelques familles de Sampont (Hachy) s'établissent dans l'Ohio. Cet État et celui, voisin, du Michigan sont rapidement peuplés de plusieurs centaines de Luxembourgeois belges, la plupart de langue allemande. Vers 1840, des Luxembourgeois encore dans les États de New York, d'Iowa, Ilhnois, Wisconsin ; entre 1850 et 1860, dans le Minnesota, le Kentucky, l'Indiana. Ici, en 1840, un prêtre français avait acheté une grande étendue de terre, à 7 miles au nord de l'Ohio River ; trois ans plus tard, voulant lotir sa propriété, il y attire deux familles de Les Bulles (Florenville) qui y fondent une bourgade nommée Léopold ; d'autres colons provenant des cantons de Virton, d'Arlon, Florenville, Etalle et Neufchâteau, ne tardent pas à s'y fixer, de sorte qu'en 1880, Léopold compte environ 200 familles wallonnes.
A la différence des Brabançons et des Namurois, une fois en Améri­que, les Luxembourgeois ne cherchent pas à former de grandes colonies — les cas de Léopold et de Belgium sont assez exceptionnels — et il arrive qu'une famille ou un individu même s'établisse isolément.
L'exemple de Jean-Nicolas Perlot est révélateur de cet esprit d'indépendance des Ardennais : né à Herbeumont en 1823, il part à 22 ans chercher du travail à Paris ; il y vit chez un oncle quand, en
Nicolas gonner, Die Luxemburger in der neuen Welt (…), Dubuque, lowa, 1889, XIV-489 pp.
(p.27) En 1858, Grandlez, bientôt suivie de Brussels, Namur, Rosière, etc., remet en vigueur l'ancienne kermesse du « vieux pays » : le dimanche de la ducasse, après la messe, deux orchestres (cornet, trombone, violon et clarinette) vont à la rencontre des fidèles et sur la place, les quadrilles se forment pour la « danse dèl poûssêre » ; les danses se succèdent toute la matinée et reprennent de plus belle le soir, après le traditionnel repas de fête (bouillon, tartes,…) auquel participent tous les parents et amis des villages voisins. Le lundi, jour des « vieux », les valses et quadrilles ne commencent qu'en fin d'après-midi, mais, dès 8 heures du matin, les festivités ont recommencé : les jeunes rivalisent en des luttes amicales, des courses à pied ou à cheval (le «carrousel»), s'essayent au jeu du drapeau, au mât de cocagne ; ils tentent d'attraper des cochons couverts de graisse, de décapiter une oie avec un fer de faux, etc.
Et quand résonne la chanson « Nous avons planté des canadas avec Marie Doudouye », reprise en chœur par les derniers buveurs de bière, la kermesse se termine… il est 5 ou 6 heures du matin.
D'autres coutumes ont repris racine ici : le grand feu du premier dimanche de Carême, la plantation du mai…
Les fléaux
Succession de périodes heureuses ou pénibles, les premières années des Wallons au Wisconsin furent marquées par trois fléaux : la maladie, la guerre et l'incendie.
Durant l'automne 1854, quasi chaque famille de pionniers accueillait avec joie un ou plusieurs parents du « vieux pays » ; les nouveaux arrivants, reçus avec enthousiasme, apportaient pourtant un terrible cadeau : les germes du choléra asiatique contre lequel soins et remèdes familiaux demeuraient impuissants. Contrairement à la tradition locale, il semble qu'il ne faille pas exagérer l'importance de l'épidémie : « 7 morts sur une population de 76 habitants » écrit en 1855 Ad. Poncelet, Consul de Belgique à Chicago, rapportant sa récente visite à Robinsonville.
Les pertes en vies humaines durant la Guerre Civile ou Guerre de Sécession (1861-1865) peuvent être estimées à 12.000 pour tout le territoire des États-Unis ; peu de Wallons toutefois, quelques dizaines
(p.41) (…) (savant mélange de pommes de terre et de chou-fleur, chou de Savoie — savôye — et arroche — aurôse —, le tout bouilli et arrosé de sauce au lard), des cougnous de Noël, des « galettes » de Nouvel An et surtout des fameuses tartes, connues dans tout le Wisconsin sous la dénomination Belgian pies (littéralement « tartes belges »). Aujour­d'hui très répandues (il m'est arrivé d'en manger cinq fois en une journée !), les tartes étaient autrefois mets de kermesse. La recette ? : pâte brisée — parfois levée — recouverte de riz, de pommes, de cassonade ou de « côrin » (compote de prunes) et, comme en Brabant wallon, garnie de « blanc stofè » (fromage blanc).
Signe des temps, le four de pierres est abandonné au profit de la cuisinière électrique et l'on fabrique des tartes aux cerises, aux « cawoûtes » (courges), à la pistache ou au citron… qu'on surgèle aussitôt après la cuisson. Le surgélateur est d'ailleurs présent dans chaque foyer : pâtisseries et pains cuits à la maison, légumes et fruits du jardin et surtout viandes, volailles et poissons y trouvent place. A la ferme, on abat périodiquement une bête, aussitôt découpée et gelée ; les volailles subissent le même sort et les poissons péchés l'été semblent bien meilleurs en automne.
La boisson nationale belge est, de part et d'autre de l'Atlantique, la bière. Au Wisconsin curieusement, elle n'est pas consommée au repas — nos cousins préfèrent alors l'eau ou le café — mais entre et après les repas. Les brasseries locales ont disparu avec les champs d'orge ; la dernière, fermant ses portes en 1965, vendait jusqu'alors des canettes à l'étiquette tricolore (noire, jaune et rouge) où l'on pouvait lire :
« Vive les Belges !»
« Green Bay »
Aujourd'hui, la bière vient de Milwaukee, ville située à 200 kilomètres au sud et connue pour ses brasseries d'origine allemande. C'est une bière transparente, très légère, que les cafetiers servent froide, presque glacée, dans de petits verres cylindriques. Pas chère — environ 7 FB le verre en 1975 — et digestible, elle… facilite les contacts humains… Scénario classique : un homme entre au « salon » (adapta­tion wallonne de l'américain « saloon ») ; il dépose sans compter une poignée de dollars sur le bar, commande une tournée générale, s'assied sur un tabouret et, s'accoudant au bar, engage la conversation (…).
Lès viladjes èt lès viles di dèpârt dès-èmigrés walons au Wisconsin (the villages and cities in Belgium from where the immigrants went to Wisconsin )
Françoise Lempereur, Les Wallons d'Amérique du Nord, Gembloux, 1976
(p.60) ANNEXE 1
Localités de Belgique d'où sont partis les émigrés établis au Wisconsin au 19e siècle.
Aische-en-Refail / Archennes / Autre-Église
Beauvechaiu / Bierbeek / Biez / Boneffe / Boulez / Bossut-Gottechain / Bovesse
Chastre / Chaumont-Gistoux / Corroy-le-Château / Corroy-le-Grand
Daussoulx I Dion-le-Mont / Dion-le-Val / Dongelberg
Éghezée / Ëmines / Ernage
Grand-Leez / Geest-Gérompont / Gembloux / Glimes / Grez-Doiceau
Hamme-Mille / Hanret / Huppaye
Incourt
Jandrain / Jauche / Jauchelette / Jodoigne
Lathuy / L'Écluse / Liernu / Longueville / Lonzée
Malèves / Morilles / Mehaigne / Melin / Meux / Mont-St-André
Namur / Neerijse / Nethen / Nil-St-Vincent / Nodebais / Noduwez / Noville-sur-
Mehaigne
Opheylissem / Orbais / Orp-le-Grand / Ottembourg / Ottignies
Perwez / Piétrain / Piétrebais
Rhisnes / Rhode-Saint-Genèse / Rosière / Roux-Miroir
Sauvenière / Saint-Denis / Saint-Géry / Saint-Marc / Saint-Martin / Saint-Sauveur
Temploux  / Thorembais-les-Béguines  / Thorembais-St-Trond  / Tourinnes-la-Grosse / Tourinnes-Saint-Lambert
Vaalbeek / Villers-lez-Heest
Walhain-St-Paul / Warisoulx / Weert-St-Georges
Zétrud-Lumay.
Documentation: Walloon Belgian villages where Wisconsin emigrants came from.

Lès viladjes di Bèljike walone qui lès Walons do Wisconsin provègnenut.

Iache

Aische-en-Refail

Èrtchène

Archennes

Ôte-Glîje

Autre-Eglise

Bauvètchén

Beauvechain

Biè

Biez

Bounéfe

Boneffe

Bonlé

Bonlez

Godètchén

Bossut-Gottechain

Bovèsse

Bovesse

Tchausse

Chastre

Tchaumont

Chaumont-Gistoux

Côrwè

Corroy-le-Château

Côrwè-l'-Grand

Corroy-le-Grand

Daussoû

Daussoulx

Djon-l'-Mont

Dion-le-Mont

Djon-l'-Vau

Dion-le-Val

Dongbiè

Dongelberg

Inguèzéye

Éghezée

Émène

Émines

Èrnadje

Ernage

Grand-Lé

Grand-Leez

Djé-Djèrompont

Geest-Gérompont

Djiblou

Gembloux

Glëme

Glimes

Gré

Grez-Doiceau

Hame-Mële

Hamme-Mille

Henrèt

Hanret

Oupâye

Huppaye

Incout

Incourt

Djandrin

Jandrain

Djauce

Jauche

Djaucelète

Jauchelette

Djodogne

Jodoigne

Lautu

Lathuy

Sclûse

L'Écluse

Lièrnu

Liernu

Longuevële

Longueville

Lonzéye

Lonzée

Malêve

Malèves

Marîle

Marilles

Magne

Mehaigne

Mélin

Mélin

Meû

Meux

Sint-Andri

Mont-St-André

Nameur

Namur

Élèssëne

Neerheylissem

Nète

Nethen

Ni

Nil-St-Vincent

Nodèbay

Nodebais

Nodwé

Noduwez

Novîye

Noville-sur-Mehaigne

Élèssëgna

Opheylissem

Orbây

Orbais

Oû-l'-Grand

Orp-le-Grand

Okgnî

Ottignies

Pèrwé

Perwez

Pîtrin

Piétrain

Pèt'bây

Piétrebais

Rin.ne

Rhisnes

Rosêre

Rosière

au Roû

Roux-Miroir

Sauvenêre

Sauvenière

Sint-D'nis

Saint-Denis

Sint-Djrë

Saint-Géry

Sint-Mau

Saint-Marc

Sint-Maurtin

Saint-Martin

Sint-Sauveû

Saint-Sauveur

Timploû

Temploux

Torèbây

Thorembais-les-Béguines

Torèbây-Sint-Trond

Thorembais-St-Trond

Èl Grosse Tourëne

Tourinnes-la-Grosse

Tourëne-lès-Oûrdons

Tourinnes-Saint-Lambert

Vilé-lès-Ès' 

Villers-lez-Heest

Walin

Walhain-St-Paul

Warjou

Warisoulx

Séntrë

Zétrud-Lumay
La traversée vers Green Bay en 1857 / Li trèvautchadje viè Green Bay en 1857 / The crossing to Green bay in 1857
Belgian settlement in Wisconsin (èplacemint bèlje au Wisconsin)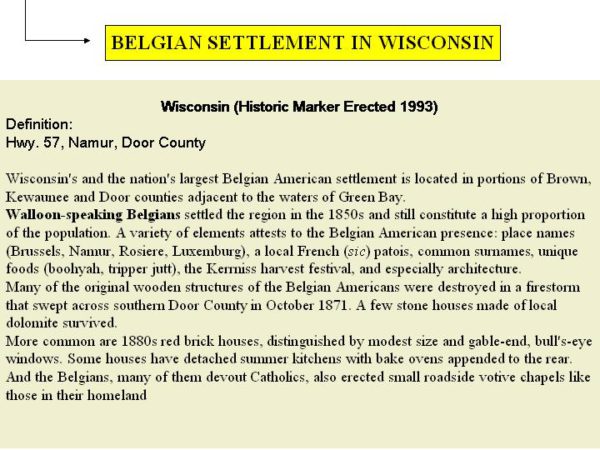 "Aux premiers belges" (Aus preumîs Bèljes / To the first Belgians)